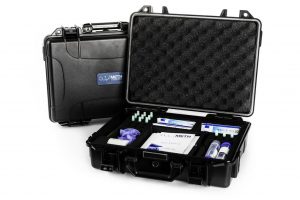 If you are considering buying or renting a property you should be aware of possible meth contamination issues associated with a clandestine meth lab or excessive Methamphetamine use within a property. Meth contamination is largely associated with rental properties, so if you are looking at purchasing a rental property, having it tested is a good idea.
A meth contaminated property has the potential of making the occupants that live within that property sick. It can also be very costly to decontaminate a property. In extreme situations, wall linings need to be stripped and replaced along with carpets and fixtures. If you are on our site because someone has told you that your property is highly contaminated and fixing it will cost you in excess of $5000, then get in contact with us and we can get you a second opinion. 
Dunrite Decon can give you an honest positive or negative answer to contamination by simply conducting a series of Rapid tests.
Unfortunately, Methamphetamine has become a serious growing issue, so get your investment property tested regularly or as a tenant vacates. If you are about to buy a house, for investment or for living in, be sure to include the Rapid Meth Test with your building and pest inspection.
Meth Testing Brisbane
A quality meth screening of your home is one of the fastest and most affordable ways to determine if your home is contaminated.